How can you help your child smoothly transition to a private Christian school?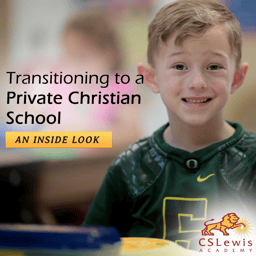 Thinking that private Christian education may be an excellent option for your child's education but worried that your child won't be successful?
Watch our on-demand webcast to learn how you can help your child make a smooth transition.
During this webinar, we will:
Look deeper into what it's like for a student to transfer into a private Christian school from a homeschool or public school
Give an overview of C.S. Lewis Academy's support and transition services
Hear tips from a parent who successfully guided their children through the transition
If you know a family or friend who might be interested in our topic, please let them know that this resource is available.