Around the World 2020 - A Virtual Auction!
Celebrating our 35th Anniversary!
The word unprecedented is getting used a lot these days, but for good reason. As global citizens, we are being tested at a level we couldn't have even imagined. At CSLA, we are preparing for the future. We know we will come out of this crisis, and more than ever we need to be ready to continue our mission to engage students with our amazing CSLA education. This will be an important time for us to heal, and we can assist our children by continuing to prepare our CSLA students for life.
To that end, the success of this year's auction is more important than ever. To stabilize our finances and even develop a fund for those in our CSLA community most affected financially by this crisis, this auction is critical.
If you have the wherewithal to support this event, please do so. If you are apprehensive about the technology, don't be, it's easy and safe. If you have problems, we're here to help. More importantly, if each of you can pass this on to several others, our support base for this event could grow exponentially, which would be a blessing.
1 Chronicles 29:14 "But who am I, and who are my people, that we could give anything to You? Everything we have has come from You, and we give you only what You gave us!"
THANK YOU FOR SUPPORTING OUR EVENT!
Need for Financial Aid Giving, Katy Ambrose, April 22, 2020
Auction Kick-off, The Eubanks Family, April 21, 2020
WELCOME, Steve Wallo, Director of Development
---
Around the World
The Virtual Auction will be open from Tuesday April 21 at 10am to Saturday April 25 at 9pm. During these days, we will have hundreds of items that you can bid on, at any time, from the comfort of your home computer, or the ease of your smartphone! All you need to do is register to bid, and you'll be ready to go! You can even browse the items before registering!
Questions: auction@cslewisacademy.com
SPECIAL NOTE: Legislation known as the CARES Act, designed to rescue the economy from the effects of the coronavirus pandemic, was passed by Congress and signed into law by the president on March 27, 2020. Here is a summary of provisions applicable to charitable giving included in the Act, officially named the Coronavirus Aid, Relief, and Economic Security Act.
---
Online Bidding for CSLA with Greater Giving
What You Can Expect - It's Easy!
This year's auction will use Greater Giving Online Bidding – allowing for a paperless bidding system. You will bid using your smartphone, tablet or computer for all items. Also, you can easily track Packages by "following" their activity.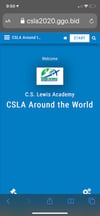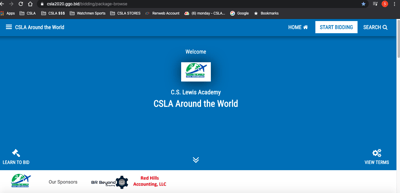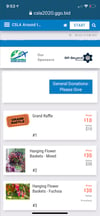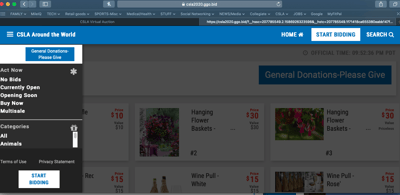 How to Mobile Bid with Greater Giving Online Bidding
Register your mobile number (you must include your number if you want to receive auction texts, including messages that you have been outbid) and credit card information on our registration page in advance of the event or upon arrival.
When the auction is open, you will receive an automated 'Welcome' text with your bidder link.
After clicking the link in the text, begin searching for packages by name, number, or category
Select the package you wish to bid on.
You can

Bid

the next increment or

Bid More

than the next increment
If you choose to

Bid More

you can choose to set your

Max Bid. If your max bid is the highest, the system will automatically bid in your favor until you are outbid or until the silent auction closes. If your bid is lower than the highest max bid on that package, you will be prompted to enter a higher bid.
To purchase a package at the Buy Now price, select the

Buy

button.
To "watch" a package, select the star icon on the package.
To make a donation, select the Donation button on your home screen and choose a preset amount or select the

Custom Amount

button to enter the amount you wish to donate.
If you're out-bid at any point before the silent auction closes, you will receive a text message.
To view packages you are bidding on, click the menu button and select

Bids.
To view packages you are watching, click the menu button and select

Favorites.
Once the auction closes, the guest with the highest bid will win.
Under the

Bids

area you can check your winning packages.
---
RAFFLE, WINE PULL, FLOWER BASKETS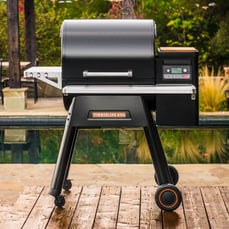 The Raffle (Grand Prize: Traeger Grill), popular wine pull and the flower baskets are all fixed priced items. Raffle tickets are $10, the wine pull is $15 and the flower baskets are $30. Those items will all have an earlier start, Wednesday April 1st at 10am, and be available on the Virtual Auction site. They will be available until sold out. We will draw for the raffle just after the auction closes at 9pm on Saturday April 25, on live stream! And no, you need not be present to win!
Grand Prize Traeger donated by Dean & Kari Zimel and The Grill Center
---
DONATIONS
The other opportunity that will go live April 1 are three DONATION choices.
Make a general donation to the Auction
Support our Financial Aid program. This is typically our PADDLE RAISE each year and it's critical in CSLA continuing to be affordable to families who need a little assistance for their children to be blessed with a CSLA education.
We have started a CRISIS TUITION ASSISTANCE FUND. This fund will support grants that will be offered in the form of tuition assistance IMMEDIATELY for the 2019-20 school year for our families most affected by the pandemic.
THANK YOU for considering a donation!
---
PICK UP
The scheduled pick up for auction winnings will be Sunday, April 26, at CSLA from 1-4pm. Social Distancing guidelines will be utilized and most winners will be asked to stay in their cars. Detailed information soon. Should you not be able to make that pick up window, you may email auction@cslewisacademy.com and request a time after Sunday, April 26.
---
THANK YOU
Our auction planning starts soon after the prior year's event. We evaluate the past event, then look forward, setting themes and building our volunteer committees. Then the procurement starts, the planning for food, decorations, etc. It is a huge undertaking with a lot of moving parts. We give special thanks to our donors, who are obviously critical to our success. They will all be listed here at a later date. We sold almost 150 of 200 tickets prior to the change, so a big THANK YOU to all those who had already purchased tickets. To the team that planned our in-person event, thank you. Many are also involved in making this Virtual Event a success.
Katy Ambrose, Kim Eubanks, co-chairs
Planning Committee: Valerie Fitzgerald, Lisa Huber
Additional volunteers: Rexine MacFarlane, Dean and Kari Zimel, Stacee Hurst, Holly Kelsay, Heidi Pender
Key event night volunteers: Nicole and Paul Wong, Rachel Thomas, Kate Hazen, Jim Hoekema, Lanaya Lester, Lori Lester
Also special thanks to: Lynelle Vivanco, Clay Swanson, Claeys Catering
THANKS to all!
Steve Wallo, co-chair
---
---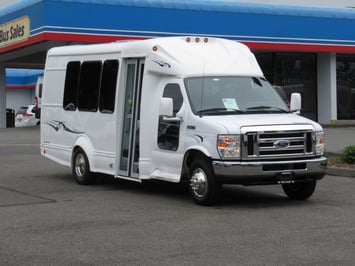 New Bus
Wondering about our new bus? As you may know, we collected funds as last year's auction and thought we had enough for a "new used" vehicle. After research and a VERY low availability of good vehicles, we decided to take a step up and purchase a new, or almost new bus. However that decision meant additional funding. We did some fundraising during the school year and we are getting very close (within $10k). However, as it got later into the school year and with other school priorities needing our fundraising focus, we made the decision to delay. Our hope is to pick this back up this summer, get one ordered and have it for 2020-21. Stay tuned.