As my baby finishes up her year in Kindergarten, I'm feeling especially nostalgic and remembering back to all the fun I had with each of my four kiddos before the commitment of school. These memories of spending all day together get me especially excited about summer! I've been a stay-at-home mom since my 2nd child was born and my oldest was 16 months old. I have loved almost every minute of it, but sometimes it was hard!! Even still, spending time with my family is my all-time favorite thing to do. It doesn't matter where, it doesn't matter what.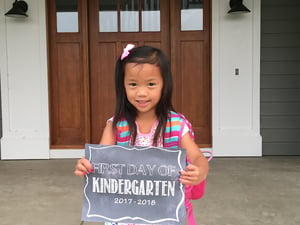 Summer can be the perfect time to fine-tune Kindergarten-readiness skills, or skills of any age that your child may lack. Summer can be busy, full of outside activities like swimming, fishing and camping, it can be difficult to even want to think about the upcoming school year. The good news is that many activities that can prepare your child for Kindergarten can be done while enjoying all the wonderful pastimes of summer. Here are 10 exercises you can do, with minimal extra effort, that will have a major impact on your child's Kindergarten readiness.
Read Aloud. Reading to your child has many benefits! They learn how to hold a book, turn pages, that written letters make words which make stories, and how to keep their bodies still for a length of time, strengthening their attention span. This is something that can be incorporated into your routine each night at bedtime or take a stack of books and a blanket out into the sunshine for a book picnic! We always sign up for the Summer Reading Program at our local library. It helps keep us accountable with motivating goals, complete with prizes to collect!
Constant Conversation. It is important for your child to be able to communicate, with adults and with their peers. Whether in the car, at the grocery store, zoo or park, conversations help build vocabulary, increase observations, critical thinking skills and more. My kids have all been talkers, and not the ones you can "mmhhmmm, mmmhhhmmm" your way through. If I am not paying attention and responding appropriately, they know it! I love that they pick up on that and call me out on it. I cherish the memories of these conversations!
Practice Independence. Any time is a good time to teach hygiene, zippers, two-step directions, etc. I have always found that without the early morning rush, summer makes it is easier to focus on these skills. Even my older kids learned skills like how to make their beds over the summer, which stuck once school started. You know your child; make a list of skills he or she may need to work on to be more independent, and start practicing.
Play Games. Games are such valuable learning tools. Mostly because they are fun for your child, so he or she may not even know learning is happening. Candyland is great for learning colors, or Hi-Ho Cherry-O for counting and fine motor skills. Yard games are great for large motor skills. Many other games can be used for counting, letter or number recognition, taking turns, following rules, etc. Our family loves games and tries to make time all year, but with extra time over the summer, we schedule it as often as we can.
Creative Play. Imagination is key in early development skills. We always make time to get out the miniature farm animals and barn, princesses, Legos, etc. and just play. My kids absolutely love when I sit down with them for this type of imaginative play. Sometimes we come up with storylines and our figures interact, sometimes we make animal families and set up a zoo, or any number of activities with small figures. When my boys were about preschool age, they absolutely loved animals. One of their favorite places to visit was a drive-thru wildlife safari a few hours from home. They loved it so much that we laminated the park map and would do all kinds of activities with it… mostly created and led by them!
Real-World Experiences. With ideal summer weather, it's a great time to get out and explore our community and world. Take a trip to the post office, just to see inside, visit the beach, zoo, or aquarium. If something jumps out as particularly interesting to your child, figure out how to learn more! After a visit to Mt. Vernon, our daughter became very interested in George Washington, so we read extra books to learn more about him. Don't forget to pack a lunch and practice eating out of a lunchbox and opening small packages for snacks.
Learning letters. If your child does not know all of his or her letters and sounds on the first day of Kindergarten, no need to worry. But, you can work toward this by singing The ABC Song together, brainstorming words that start with a familiar sound, spelling and writing his or her first name, looking for letters to name when you're out in the community, playing rhyming games, etc. These are all activites that can be done when you are out and about enjoying the sunshine and liveliness of summer!
Recognizing numbers 1 through 10 is ideal, but if it doesn't happen before the first day of Kindergarten, not a problem! There are many simple activities that can work toward this. Almost any board game requires counting; or at the park, count the dogs on leashes, or make a daisy chain and see who can make the biggest. See how many rocks or shells you can collect. So many simple activities can be done, just keep talking and listening.
Day Camp. This is something I didn't actually do with any of my kids. They all attended preschool, at least a few hours a week. If there is a concern about your child being able to separate from you once school starts, it would be a good idea to find a week-long camp they can attend for a couple hours each day.
Bedtime. Summer days are so full that bedtimes can be stretched to enjoy every minute of sunshine. My family loves the outdoors, and sometimes we just don't want to go inside! A couple weeks before school starts, though, we work toward a regular bedtime, so that a week before the first day, we are going to bed at the time we will on a school night and waking up on a schedule. This makes the transition toward more structure much easier. My kids do not function well when they are tired. They may hold it together at school, but we feel it once they get home! Rest is so important that it is worth giving up our last few evenings in preparation of the first day of school.