Who doesn't want to walk into the house after a long day and be welcomed home with the smells of a delicious dinner, all ready to eat? Managing after school activities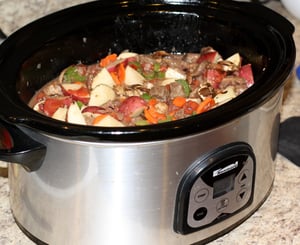 from the time the kids get out of school
until dinnertime OR getting off work, picking up the kids and scrambling home to start dinner can be too much! If I can't tell my kids, "Dinner will be ready in 15 minutes," they start to snack. The best solution I have come up with to combat fast food every night or snacking until dinner is ready is my good ol' crockpot!
Somewhere, I read that the best recipes are the ones you know from memory. Here I sit, recalling some of our family favorites that I can throw together without looking at a recipe. I am definitely a simple cook when it comes to weeknight dinners, and not one to always measure when I'm cooking. You can tweak these recipes for taste or serving size preferences. We have a family of six.
White Chicken Chili
4-6 skinless/boneless chicken breasts
3 cans white beans, drained
1 (10 oz) can green enchilada sauce
1 (7 oz) can diced green chilis
1 (4 oz) jar roasted red peppers
Add everything to the crockpot and turn it on low before leaving in the morning. Cook on high for 3-4 hours or low for 6-8 hours. At dinnertime, remove the chicken breasts and cut into bite-size pieces before adding them back in. Garnish chili with sour cream and shredded cheese. Serve with cornbread or tortilla chips.
Easiest Ever Pulled Chicken Sandwiches
3 pounds skinless/boneless chicken breasts (5-6 pieces)
1 ½ C. BBQ sauce (eyeball it, and you can add later)
8 buns
Cook raw chicken and sauce on high for 3-4 hours or low for 6-7 hours. Shred just before serving. Quick tip: I throw it in my KitchenAidR mixer. This has been life-changing! Serve on buns with a hot vegetable or salad.
Italian Vegetable Soup
1-2 pounds of ground beef
Diced onion (handful)
Diced celery (2 handfuls)
Diced carrots (I buy sliced and use the entire small bag)
1 can diced tomatoes
1 can tomato sauce
1 can kidney beans, undrained
1 can green beans
1 can corn
Pinch of parsley, oregano, basil, salt and pepper (whatever you have)
2 cups shredded cabbage (I buy it already shredded)
32 oz beef broth
½ - 1 cup small macaroni
Brown the ground beef and add all ingredients to crockpot except macaroni. Cook on low 6-7 hours. Two options for macaroni: 1) Put it in the crockpot and let it cook for 30-45 minutes, or 2) at dinnertime, cook macaroni separately and then add it to the crockpot (quicker, but takes an extra step or two).
Chicken Noodle Soup
4 chicken breasts
1 bag sliced carrots
Diced celery (I buy a stalk and use a few handfuls)
32 oz chicken broth
16 oz bag of wide egg noodles
Combine above ingredients except noodles. Cook on high for 3-4 hours or low for 6-7 hours. At dinnertime, cook egg noodles and add to crockpot. While noodles are cooking, take out chicken breasts and cut into cubes before putting them back in.
Beef Stew
2 pounds beef tips
1 bag baby carrots
4 large Yukon Gold potatoes cut into large bite-size pieces
1 pkg stew seasoning
1 pkg brown gravy mix
4 cups water
Put beef, carrots and potatoes in the crockpot. In a small saucepan, bring seasonings and gravy to a boil in 2 cups of water; pour into the crockpot. Add up to 2 more cups of water, cover the top of the other ingredients. Cook on high for 4 hours or low for 8 hours.
It is clear that I am not one to spend much time in the kitchen. Any of these recipes can easily be thrown together the evening before or morning of while packing lunches or doing dishes. With easy dinners like these, I can spend my evenings focused on my family, the happenings of the day and homework.