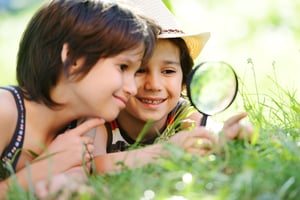 When the school year wraps up and summer begins, a slower pace and sunshine start calling, and my family is always eager to answer! After counting down to the beginning of June, when school is out, we are ready for a break!
As a mom of four busy kids, I am just as excited about summer as they are. We try to balance a summer of staying busy with outdoor activities and spending time with friends, but keeping the schedule light enough to be spontaneous and stress-free.
As a former teacher, I know how much growth occurs from September to June, so I do have that fear of summer regression that happens in such short amount of time. Here are five activities our family does to try and prevent or slow this regression…
Reading.

The first week of summer, we always hit the public library! We sign up for the summer reading program with a fun tracking system, incentives and prizes. This motivates my kids to read, and we continue visiting the library every week or two to keep new books in their hands.

Writing.

I have my kids journal all summer. This is not every day, but at least once a week. Whether they are writing at the end of the week about basketball camp or daily during a family vacation, it keeps the skills they've developed fresh.

Math.

This is a subject we hit pretty hard. Every year, I get each of my kids a summer math workbook. They work in it about 30-45 minutes each day. Some of them love it, and some of it are just ok with it, but it is a set expectation. There are some days that they do not have to work, like 4th of July or vacation, but otherwise, it is a daily task. I appreciate the slower pace that allows us to practice multiplication facts or whatever weakness needs to be addressed.

Projects.

During the school year, there is not always enough time or nice weather to explore the environment and experiment. We use summer to work in the garden, where each of our kids has a raised bed to care for, or even build and test baking in solar ovens. We often start the break with a project or idea list and work our way through it all summer.

Authenticity.

This is a wild card that we use to show our kids that life experiences are learning opportunities. Whether it's reading and following a map at an amusement park, managing spending money, or building a treehouse, real experiences are so valuable. I always prepare my kids for vacation by having them read and learn about the places we are heading. When they have prior knowledge, then get to experience a destination, it is so much more meaningful and memorable!
These activities do take planning, follow-through and accountability on my part, but the outcome is so worth it! Each fall, as my kids start a new grade, I am thankful for their hard work, and they are confident and ready to learn.