Summer's finally here! No more getting up early every day to pack lunches and drive the kids to school. You finally get to rest and relax with your little ones. But wait...what's tha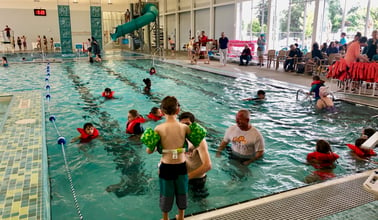 t? They've only been out of school for one week and they're telling you they're already bored? Tommy and Jimmy have run out of games to play and have resorted to having sword fights with large sticks? (Those never end well, by the way.) You need to line up some cheap and easy activities to help minimize the mayhem this summer. Luckily, there is plenty for them to do in the Newberg area.
Go Read a Book
Every year the Newberg Library runs an awesome Summer Reading Program. You can either visit the library or sign up online to get your child started. There are programs for kids of every age, and one for Mom and Dad too! Just signing up gets your kid a free book. They simply need to set and meet their own reading goal each month to be entered into a contest to win a variety of local prizes. One year my son won a family pass to OMSI! Also, every Friday they move the Summer Mascot to two locations in downtown Newberg. Follow the clues and locate the mascots to win entries into more prize drawings. This year they are hiding the mascot somewhere in the library...find it and you get another entry! There is a program for teens too.
In addition to encouraging reading, the library hosts multiple events throughout the summer. Some of these are outdoor events, such as Public Works Day, where the city brings in their heavy equipment for the kids to check out. Other events include comedians, The Reptile Man, story time and Lego Builders. It all concludes in August with an outdoor ice cream party where the winners are announced and the children (and parents) celebrate their summer of reading.
Go to the Movies
Regal's Summer Movie Express offers second-run children's movies at a discount every Tuesday and Wednesday at 10am. Check out your local theater and you can see anything from Kung Fu Panda to Despicable Me 3 on the big screen for just $1 each.
Attend a Concert
In July and August, the Chehalem Cultural Center hosts a weekly outdoor concert in their Tunes on Tuesdays series. Bring your chairs and blankets and enjoy a picnic to the sounds of local bands featuring a variety of music styles. The show starts at 6:30pm, but gates open a5 5:30. Be warned, this is a fun, loud and popular event, and the crowd will be huge!
Go for a Swim
Summer is a great time to help your little ones brush up on their swimming. Besides offering classes for all ages, the recently remodeled Chehalem Aquatic Center offers afternoon and evening times for public swim all week long. Teens even get a late night time slot designated just for them. The Aquatic Center also offers Junior Lifeguard Camp, Water Polo Camp and more.
Go for a Hike
Why pick up and drive somewhere when you can walk? Check out downtown Newberg and all of the local shops with your kids. Then stop by the Hoover-Minthorn House Museum to see where former president Herbert Hoover was raised. Stroll across the street to Herbert Hoover Park and play some disc golf, or take the kiddos to Memorial Park to play on the swings. Maybe go take a walk in the sculpture garden on the grounds of the Allison Inn, or explore the George Fox campus.
Finally...Don't Miss the Parade!
One last summer tradition in Newberg is the Old Fashioned Festival. With events like the Children's Parade, Cruise-In Car Show, Scout Exposition, Rotary Pancake Breakfast, carnival rides and fireworks on Saturday night, your kids will definitely not be "bored." Keep an eye out for C.S Lewis Academy at the Grand Parade on Saturday morning. The Old Fashioned Festival is a great way for different groups in the community to come together and celebrate our town.
Whatever you decide to do, don't let summer pass you by without making some new family memories. It can be some simple activity, or just time spent together giving thanks for what God has provided. I pray your summer is filled with goodness and light.
Need more ideas? Click the banner below to download your free guide to screen time alternatives for families!
Interested in checking out C.S. Lewis Academy? Drop in for a visit at our upcoming Open House!