Summer. The word brings visions of long days playing in the sprinkler, late nights playing board games followed by lazy mornings sleeping in, long family road trips, afternoons exploring local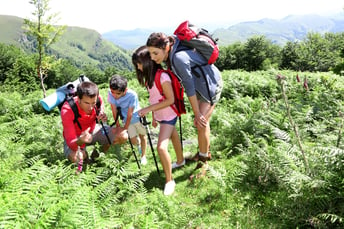 attractions, and a chance to take that vacation you have been planning. Children look forward to a chance to set aside their school responsibilities and spend their summers engaged in play. However, this June when the final bell rings, my family schedule will not change much. Alarms will still go off bright and early, children will be washed, dressed, fed, and hustled out the door. Summer looks very much like other seasons in our house, because both mom and dad work year round. So how do you make the most of those beautiful, long summer days with your children when you need to be in the office?
Strategically Planning Time Away from Work
If your workplace provides vacation days, think carefully about the best way to use them for your family. For some this might mean adding on to a three-day holiday weekend to give the longest stretch of time off, for others it might mean taking off frequent days in the middle of the workweek to spend a carefree day with your child.
These days many employers offer flexible scheduling, so you may be able to arrange your work days so that you only work three or four long days each week (whether going in early or staying late), but are off in plenty of time to go on an adventure. (These solutions might save on childcare costs as well!) If you had not considered this before, it may be time for a frank conversation with your employer about the potential for flexible scheduling during the summer. When both parents are employed, it is essential to have frequent and early conversations about your summer plans, making sure you are on the same page.
Summer Camps and Daycare
Inevitably, your child will need to be somewhere while you are working. Choosing a program that will be engaging, safe, caring, and educational is a difficult task! Take some time to consider your resources, your budget, and your desires for your child's summer. In our family, our children will spend their summer with the same childcare provider that does their before- and after-school care. We are taking advantage of this familiar and budget-friendly option! Others we know have arranged for a mix of day camps and educational opportunities to keep their child engaged. You might also consider hiring a local college student to be your full-time care provider during the summer months. This option provides one-on-one attention for your child in your home. Summer nannies are often able to take children to community events and activities, and come up with creative ways to spend the long summer days.
Weekend Warriors!
Even if you do not have the ability to take time off during the summer months, summers can be a time for adventure! By making the most of the weekend, or other days off, you can take time to bond as a family and enjoy the relative quiet of the summer months. On a weekend you might go for a quick camping trip, take a "daycation" to a local attraction or a quick trip to visit relatives, or spend a day in nature. My local area is full of festivals and events all summer, and many of our summer weekends are spent wandering fairs and events, exploring the world together. You might also take advantage of your weekends by doing absolutely nothing! Spend the day eating popsicles in the backyard, lazing around with a good book, or playing board games. Unplanned time can be a precious and beautiful thing.
Enjoy those Evenings
Make a conscious effort to set aside summer evenings for quality time with your family. For some this may mean setting take-home work aside until after children are in bed, or making a concerted effort to get out of work at an hour early to make time for family. Summer evenings are fantastic for short hikes, stargazing adventures, backyard BBQs, exploring your town, or playing outside. Do not discount the importance of an intentional evening spent together.
Build a Special Summer Routine
Routines are essential for maintaining a busy life with working parents, but I urge you to consider finding ways to make your summer routine different. Perhaps read bedtime books outside, add in an evening walk together, and create a family summer tradition that brings you all together. Doing something a little different can go a long way toward creating those precious childhood summer memories.