We all like investments that are profitable and I would love to share about an investment my husband and I have made that has given us an excellent return.
Private schooling our three daughters has been one of those.
A "wise investment" can mean many things.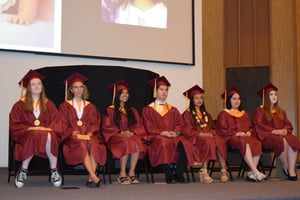 Sometimes that profit is financial and sometimes it is the positive outcome you see in your child(ren). Private schooling our girls has given them an outstanding education that prepared them well for college and for life.
My kids have benefited from private schooling for these reasons:
They have had the benefit of being in classes with smaller student numbers.
They have been loved and nurtured and well-educated by their teachers.
They have had opportunities to participate in student government, play sports, participate in drama, music, and travel on various trips including an educational trip to Washington, DC and a mission trip to Belize.
They have been in a Christian environment that supports students emotionally, spiritually, and socially.
One thing I hear frequently is "private schooling is so expensive." Well, how expensive is it really? Breaking it down by the hour, it's a better deal than one may think.
Take a look:
K-5 - $6180 - $37.00 per day - that's $5.30/hr
6-8 - $7225 - $43.00 per day – that's $6.20/hr
9-12 - $7800 - $46/day – that's $6.70/hr
I had a friend who paid more for daycare! Our teachers go above and beyond these hours and when you figure all the extra hours they invest in our students, it's even more bang for the buck. What we received in our three girls' education by the hour was and is amazing.
Another thing I want to mention is that my girls' private Christian education paid itself forward in the academic scholarships they received at their respective universities. Their total academic scholarship money they received each year was double their High School tuition for each year.
We all get one opportunity to raise our kids to be respectable citizens; my husband and I feel strongly that the "return on investment" from enrolling our children in private school has been amazing. It has kept us focused on what's important. We trusted and still trust our school to "prepare students for life" (our school's motto) and we know that our girls are headed in the right direction.
Recently, someone asked me about our school because they saw the school bumper sticker on my car and wanted to know if it was worth it. I responded, "Absolutely." If I were to do it all over again, I wouldn't change a thing.
Investing in our children's education is one of the best investments we ever made.